Role
Clerk of the Circuit Court
Iris Martinez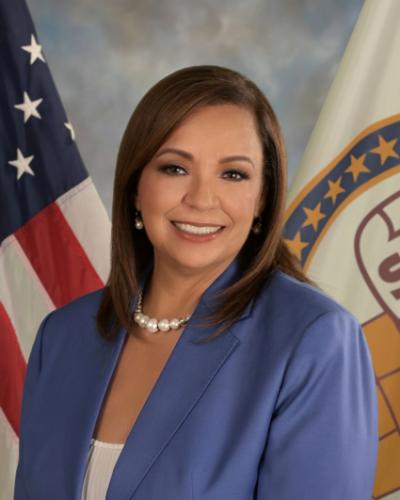 Body
On November 3, 2020, Clerk Iris Y. Martinez made history when elected as the first Latina Clerk of the Circuit Court of Cook County, the largest of the 24 judicial circuits in Illinois as well as one of the largest unified court systems in the world.
Since the Clerk took office on December 1, 2020, she has centered efforts on the statutory duties and responsibilities of the Office while supporting her mission to update and increase the use of technology, transform operations, and increase transparency while providing the proper COVID-19 safeguards at all our locations for our employees and constituents. 
Clerk Martinez worked with the Illinois General Assembly to protect the identities of child and adult sex crime victims. In 2021, legislation led by Clerk Martinez was signed into law requiring anyone wanting to access restricted information related to the identities of child or adult sex crime victims to petition the court to obtain access to those documents.
Clerk Martinez's time as an elected official began on January 8, 2003, when she was sworn in as the first Latina elected to the Illinois State Senate, representing the people of the 20th Legislative District. She made history once again by serving as Assistant Majority Leader from 2007-2008, a position never before held by a Latina. Martinez was named Majority Caucus Whip in 2013 and became Assistant Majority Leader again in 2018.
As a state senator, Clerk Martinez advocated for affordable housing, expanding health care access, and improving care for seniors and differently abled populations. A strong champion for Illinois' children, Martinez worked on initiatives to keep children safe and annually hosted a Family Wellness and Back to School Fair, where hundreds of children received health screenings, dental checkups, immunizations and backpacks filled with school supplies.
A tireless proponent for programs designed to improve the quality of education for youth in Illinois, Clerk Martinez fought for the Grow Your Own Teacher initiative, an effort that placed 1,000 teachers in low-income, Illinois public schools-of-need by offering forgivable student loans to paraprofessionals, parents, and other community leaders who wished to become teachers. She also supported the Golden Apple Scholars of Illinois Program, which places highly qualified teachers in the state's schools-of-need schools by providing tuition and teacher preparation assistance.
Clerk Martinez's involvement with the Illinois Legislative Latino Caucus, including previously serving as a Co-Chair, expanded her work on initiatives of importance to minority communities. She championed a law allowing people who are not comfortable speaking or understanding English, as well as those who have trouble hearing, to get assistance from an interpreter in a courtroom. Another law she spearheaded ensured that all health care facilities treating Medicaid patients in managed care plans must develop and implement language services.
She has also served as President of the National Hispanic Caucus of State Legislators and is currently the 4th Congressional District State Central Committeewoman for the Democratic Party of Illinois, the City of Chicago's 33rd Ward Democratic Committeeperson, and Chair of the Hispanic Caucus for the Democratic National Committee.
Clerk Martinez is one of the founding members of Illinois Unidos, a consortium of over 200 Latino elected and appointed officials, together with health professionals and representatives of community-based organizations. The initiative aims to present one united voice in stopping the spread of COVID-19.
Clerk Martinez was born and raised in Chicago's West Town neighborhood. She resides in the city's Albany Park neighborhood and has a daughter, Jacklyn Nicole.